The country angle has been around in professional wrestling for a long time, but which redneck wrestlers really stood out? They've played faces and heels, and they've been jobs and champions. Some of the men we've chosen to discuss are wrestling legends, while others are unmemorable guys who just played a funny redneck character in the ring. Either way, these men are the most intriguing redneck wrestlers in the history of the sport.
1. Steve Austin

If you thought we might leave off the Texas Rattlesnake because it's too obvious of a choice, think again. Stone Cold Steve Austin isn't just the greatest redneck wrestler of all time; he's also one of the greatest period. This man almost single-handedly defined the attitude era, with his beer guzzling and ass kicking almost too much for TV to handle. As far as being a redneck is concerned, Stone Cold was never afraid to show off his Texas routes. When he wasn't in his signature leather vest stomping someone's ass in the ring, he was rocking his camo  hunting gear, wreaking havoc behind the scenes. His ceremony of bringing cheap ass beer to the ring, smashing them open, and messily chugging them became one of his most treasured traditions among wrestling fans, and it remains to be one of the most most badass things I've ever seen a grown man do.
Steve Austin isn't just a redneck inside the ring. He was quoted in Men's Fitness as saying he still regularly drives a 1995 Ford Bronco and a 2007 Chevy, despite living in the not so truck-friendly city of Los Angeles.  He hosted Redneck Island from 2012-2013, a competition elimination challenge on CMT. The man is a tried and true redneck who hunts, fishes, and drives badass trucks. What a lot of people may not realize though is that Austin didn't always get to play to his natural redneck strengths as a professional wrestler. While with WCW in 1993, Austin, alongside partner Brian Pillman, were known as the Hollywood Blonds. Austin went by the moniker of "Stunning" Steve Austin, playing a "hot" California dude who just so happened to wrestle. As lame as they look in the photo below, they actually made a run for the WCW Tag Team Championship belts, eventually winning them from Ricky Steamboat and Shane Douglas.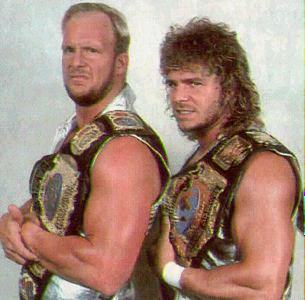 Let's just thanks the wrestling gods that Stone Cold eventually found his way as a true redneck badass, because if "Stunning" Steve Austin was around during the attitude era, he probably would have tagteamed with Goldust and bottomed for him in the hotel after they lost every match.
 2. Jeff Jarrett
"He broke 6000 guitars and never drew a dime." If you have so many acoustic guitars laying around your house that you can afford to just smash them over people's heads, you might be a redneck. I personally never liked Jarrett as a young wrestling fan, but looking back on it the dude had one of the best gimmicks going in pro wrestling at the time. I mean how great would it be to just take a guitar and just smash it over someone's head as hard as you can? When Jarrett did it to this opponents, the guitar didn't just break. It freaking exploded into a million pieces and was insanely satisfying to watch.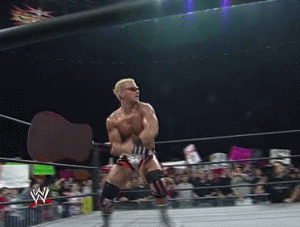 His intro music in WWF was simple country rock; not the most memorable but certainly reminiscent of the south. What was memorable, however, was his partner in crime Debra. Although her breasts were fake as wrestling itself, she still was one of the hottest women on TV at the time. Who can forget King's cry for "Puppies!" every time Jarrett and Debra came to the ring together? Jarrett eventually went on to found TNA Wrestling with his father, while Debra ended up marrying Stone Cold Steve Austin not once but twice, with both times ending in a divorce. You know why this isn't going to work out Debra? BECAUSE STONE COLD SAID SO!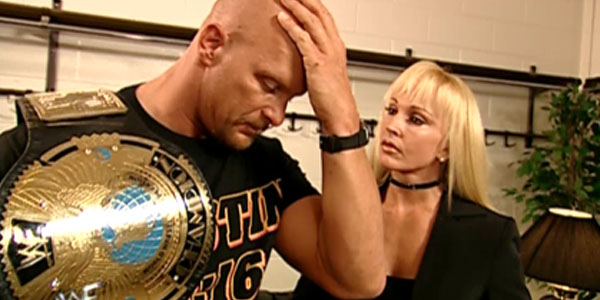 3. The Godwins
If dudes like Steve Austin give rednecks a good name, idiots like the Godwinns give us a bad one. With the backstory of being hog farmers from Arkansas, The Godwinns were your typical hillbilly retards that acted like complete idiots at all times. Their names were Phineas I. Godwinn(Dennis Knight) and Henry O. Godwinn(Mark Canterbury), so if you spelled them out by their initials it said pig and hog (are you kidding me?)  I mean just look at these damn Redneck fools- they do a jig with the ref in the ring after their fight, and even bring some live goats into the ring with them:
The Godwinns will go down in history as one of the worst wrestling gimmicks ever, but at least one of the two men eventually found their true calling in the ring. Because the transition from pig farmer to sadistic satan worshiper is so smooth, Dennis Knight eventually went on to be Mideon, a member of the Ministry of Darkness.
4. The West Texas Rednecks
Although this stable was originally called the West Texas Outlaws, they eventually started going by West Texas Rednecks after the announcers kept saying the name wrong. The faction consisted of Curt Henning, Bobby Duncam Jr., and the Winham brothers, Barry and Kendall. The entire stable hailed from Texas except for Henning, who pretended he was from Texas but was in actuality from Minnesota. The group was fairly popular during their run, with the Winhams winning the WCW Tag Team Championship during this time. The group eventually had a 5th member join when their popularity was starting to fizzle out. He went by the name Curly Bill at the time, but you might know him better as Virgil. Seriously, how many factions has this guy joined during their decline? He put the kiss of death on the WTR, and eventually did the same thing with the NWO.
Virgil aside, if there's anything you remember about these dudes, it's that they recorded the country tune "Rap is Crap," a song that basically said, "hey rap sucks and being a redneck is awesome." The song is featured on the WCW Mayhem Soundtrack, and luckily for you someone uploaded on YouTube. It's hard to choose which is more terrible, the lyrics or the off-key singing, but we'll let you be the judge of that:
5. Jamie Noble & Nidia
It's unclear if Jamie Noble is a redneck in real life, but he definitely played a character that was one. Known as the "redneck messiah," Jamie put on a trashy redneck act while with WWWE in the early 2000s. Noble eventually won the WWE Cruiserweight Championship, holding the title for nearly 6 months before losing it to Billy Kidman. At one point in his story-line the redneeck messiah even inherited a bunch of money, making him and Nidia "rich." He's definitely not the most redneck dude on this list, but he certainly embodied at least some of what it's like to be a redneck. There aren't a lot of great pictures of Noble and Nidia together, but we managed to find at least one decent one: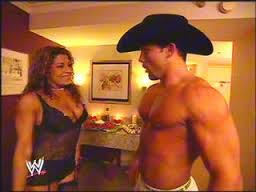 by