Although in today's world most of the comedies we get are extremely dirty or filled with shock humor and curse words, there was a time when PG-13 comedies reigned supreme in America. This list takes a look at the 10 best PG-13 comedy movies ever made, no matter how subjective that may be. We've excluded certain comedies rated PG-13 that aren't specifically comedy movies, so don't expect to see films like Forrest Gump or Back to the Future.
What is your favorite PG-13 comedy? The movies on this list rely on slapstick humor, silly dialogue, and occasionally some great storytelling to win you over. Included are performances by Jim Carrey, Robin Williams, Adam Sandler, and other comedy legends. What are the funniest PG-13 movies ever made? Scroll down and hear our thoughts! Some of these might just be the best PG-13 movies of all time, regardless of genre.
1. Dumb and Dumber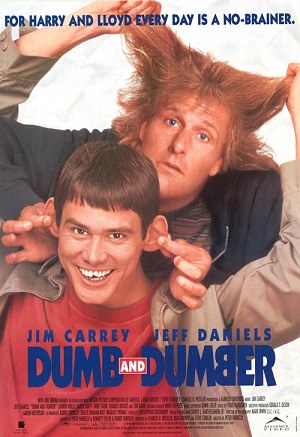 Many consider Dumb and Dumber the perfect comedy movie, and for good reason. It's silly, childish, and sometimes even smart, but most importantly it's ridiculously funny. Released in 1994, Dumb and Dumber not only solidified Jim Carrey's career as a comedy star, but launched the career of the Farrelly brothers as well.
The plot revolves around two losers, Harry and Lloyd, who accidentally involve themselves in a hostage situation after Carrey's character falls in love with a beautiful woman. They take a road trip across America to return the woman's briefcase to her, but discover it's filled with the random money along the way. There are too many notable scenes to talk about, but if you haven't seen this and love comedy, then do yourself a favor and watch it immediately.